Lovely is a lovely word- it makes me think of elegance and style, fine china and lawn parties.
But I digress.
This has been a lovely week. The weather has been lovely (though we could use some rain...). My new shoes are lovely. My new lens is lovely. My friends are lovely. In all, everything is lovely.
Photography is also lovely- I get to express my latent creative side and capture moments of my life forever. Speaking of photography...
1) Straight Out of Camera (SOOC)- Our CSA is giving us zucchini blossoms every week. These gorgeous blooms are delicious in a variety of dishes!
2) Sprouting- Remember that Chrysanthemum I
mentioned
? The one I thought was dead? Well she isn't. And she looks wonderful. Lovely, even.
3) Isn't it Ironic?- I have always wanted an overstuffed chair. At least as long as I've loved to read and got large enough that all chairs did not automatically seem huge. Earlier this week I found one on craigslist! She is lovely! And large! And soft! The irony?
Pepsi becomes indignant if I try to move her off of
her
new chair. *sigh*
4) Lazy- Speaking of Pepsi and
her
my chair... Pepsi wants everyone to know that she has a rough life. For realz.
5) Smells Like Spring- I've been excitedly checking my Magnolia for blossoms, and while it has been putting out a bunch, our recent and never-ending wind storm has pretty much destroyed most of the blooms before they get a chance to share their glory. Today I was able to snap a few quick shots of this one before the wind claimed another victim!
You should definitely join the weekly scavenger hunt! It is so much fun and over at Ashley's blog you get to see so many amazing images!!! Next week's prompts are:
1) Give Me Flowers
2) Visual Contrast
3) Friendship
4) Before and After
5) Dark
And for a couple other photo challenges...
Red- Even as they fall apart, Magnolia blossoms have a stately beauty.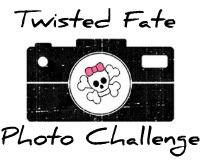 Rock- Maybe not the most traditional interpretation, but when these puppies start pumping, they can really get you to rock out!!