I've fallen off the photo challenge bandwagon. However, after a recent photographic experience that had me feeling pretty awesome, I've decided to start participating again! Without further ado- the pictures!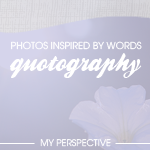 Today at work was rough, but watching my pup 'swim' through the grass upside down made me grin!

I used
this tutorial
(and btw- she has TONS of great tutorials on her blog!!) to get this shot. I just downloaded a random bokeh shot from
deviantart
and used it as the background texture. The SOOC (below) was boring, but I LOVE the final product!